I recently bought the 512MB iBall from Geil, a company perhaps better known for their high-performance computer memory. Labelled as a "GMV Player" (or "MPV Player" on some versions), it can play video files on its tiny OLED screen as well as acting as a simple MP3 player. I haven't experimented with the video feature beyond watching the included sample clips, and I have to say that I wasn't impressed with the quality.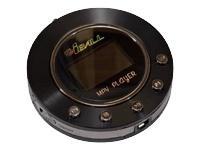 It looks fairly stylish and works perfectly as a standard MP3 player bar one somewhat major flaw – it won't resume from where you left off if you switch the unit off and on again, so you end up having to skip the tracks you've already heard. This would probably have caused me to return the player if it wasn't so cheap (£2.99 from the Overclockers B-Grade section, no more left unfortunately!).
The player also packs an FM radio no better nor worse than those I've seen bundled into other MP3 players and mobile phones, an e-book/text file viewer which allows you to view an impractical 24 characters at a time, a voice recorder which  haven't experimented with, and a picture viewer which I imagine is of similar quality to the video player.
All in all, it's a fun little toy but not what I'd consider a serious digital audio player. Much more details over at Dan's Data, an independent PC hardware and gadgets blog which I recommend highly, by the way.