When attempting to log into my Tesco Bank savings account recently, I was greeted with a message stating that my browser – the latest stable build of Google Chrome – is unsupported: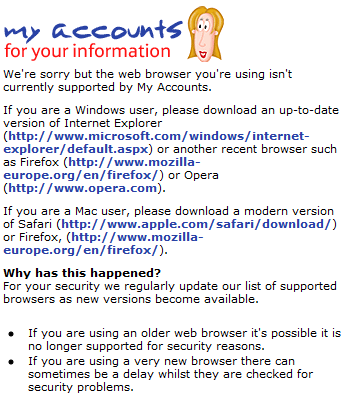 Tesco's security concerns seem unfounded given that Google Chrome – which, incidentally, is based on same the WebKit rendering engine as Safari - was recently proven to be one of the most secure browsers.
Also, despite the site's recommendation of a "modern version of Firefox", I found that I was also prevented from logging in using the latest version of Firefox 3.6. Trusty (or should that be rusty?) old Internet Explorer 6 seems to work fine, and that's not a particularly secure browser by any stretch of the imagination!
Strangely, I'm able to log into my Tesco Bank credit card account just fine with Chrome; it's just the savings area that locks me out.
Fortunately the only reason I logged in was to withdraw my full balance ready to add to my 2010/11 ISA, but if I were looking to continue saving with Tesco, their short-sighted approach to browser support would certainly have me thinking twice.