The official Guitar Hero iPhone game was announced today at Apple's 2010 Worldwide Developers Conference. While there have been many similar apps – such as the Tap Tap Revenge franchise and the Rock Band app – it's nice to see an official GH game for the iPhone, and it certainly doesn't fail to impress.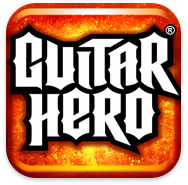 Expecting great things given its high-profile launch, I didn't hesitate to purchase the app. I wasn't sure that the concept would translate well to the small screen, but the developers (Vicarious Visions) have done a great job, squeezing in both tapping and strumming mechanics, unlike many competing games. Most of the notes are played simply by tapping, but some of the notes (signified by an arrow on the screen) need to be strummed by pressing the relevant colour then dragging your finger to the edge of the screen. It's actually quite tricky, and I like to think of myself as a fairly adept Guitar Hero player.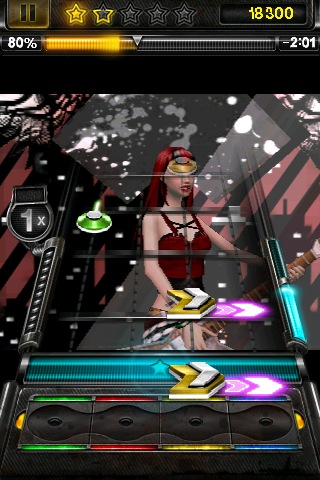 When the game loads, you are first asked if you want to allow it to access your iPod music library, in order to notify you when your favourite artists have tracks available. You are then offered a brief introduction to the game before diving in to a selection of tracks from artists such as Vampire Weekend, The Rolling Stones, Rise Against, Weezer, The White Stripes and Queen. The app is stable and the graphics smooth, even on my aging iPhone 3G
There's a music store which lets you download three-track song packs for £1.19 ($1.99), with 14 artists to choose from but presumably more to follow. There's also Facebook integration, which allows you to brag about your progress to your friends, although I haven't explored this functionality yet.
I'm not a big iPhone gamer, so this is the first game I've purchased in quite a while, and I'm glad I did. Attractively priced at £1.79 ($2.99), it's well worth checking out, whether you're a long-term Guitar Hero fan or not.