The BBC Future Media & Technology team have announced that their first official iPhone application, BBC News, is currently under development and due for release next month.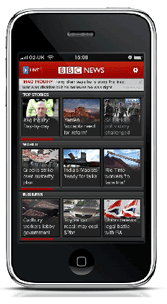 I've had a play with the online demo and it looks pretty slick, so I'm looking forward to installing the app when it becomes available.
The BBC are also planning to follow up with a BBC Sport application, and they're also considering an iPlayer app in order to provide a richer experience than the current iPlayer mobile site.
Update: Sadly, these plans have been shelved for the time being.