Yesterday I was invited to Newsvine (thanks, Eric!), which describes itself as "a place where anyone can read, write and influence the news." Lots of sites with similar philosophies sprang up in 2005; so what makes Newsvine different from, say, Digg or CommonTimes?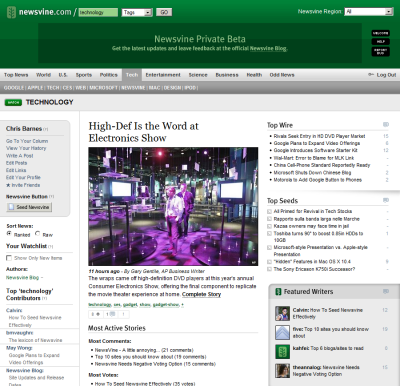 Unlike Digg, which only covers technology news, Newsvine welcomes news on any topic. In this way, it is more analogous to CommonTimes. The main difference I can see is that Newsvine is somehow affiliated with the Associated Press, whose stories provide the content for the "wire" section of the site. This is something which its competitors lack – each story must be manually submitted by users.Then there is the "vine" section, which is composed entirely of user-submitted stories. The act of submitting a story is known as "seeding the vine", and users are encouraged to do this by dragging a button to their Bookmarks toolbar which they can click when they find an interesting site or story. Each user's "seeds" are posted in their own "column" (like a blog, which is available at username.newsvine.com) as well as the relevant area(s) within Newsvine, determined by tags or keywords.
Perhaps the most novel twist, and something that no other "you make the news" community has tried before, is the notion of users getting paid to submit stories. The way it works is this – as a Newsvine user, you seed stories to build up your own personal column. Whenever someone views your column, you receive a share of the advertising revenue. This is not yet operational, is slated for release in time for Newsvine's public launch.
My impressions so far have been good – the site is nicely laid out and attractively designed, and despite occasional slowness, seems to be scaling well. It's a little US-centric at the moment, but this will improve as more international users join the site.
Newsvine is currently in private beta. I have a limited number of invites available – if you'd like one, leave me a comment.